We accept outside prescriptions.
Please drop in for all of your eyewear needs. We have procedures in place to keep you safe. 
Complete pair of eyewear starting at $219, including frame, lenses and treatments.
Mermaid Vision
Mermaid Vision in Lunenburg has been offering quality eyewear paired with excellent service since 2009. Here you will find your favourite brands but also you will find something different that you can't find anywhere else. Mermaid Vision offers some of the most advanced and customized lens technology in the industry. With quality lenses, fabulous, funky frames and a caring team, selecting eyewear is an enjoyable experience.
We are three local licensed opticians; Tanya MacPhee, Jodi Oickle and Allison Cahoon. We have over 50 years combined of people trusting us with their eyewear on Nova Scotia's South Shore. We are passionate about what we do! We genuinely enjoy helping people select a frame that not only fits well, but looks fabulous too!
Outside prescriptions are accepted. Let us help you choose from our wide selection of frames, sunglasses, lenses, tint and treatment combinations today. No matter your needs and budget, we can help you find something so you can see and look your best. Check our Facebook page for 2nd pair deals and other promotions. Book an appointment or drop in for a free consultation.
Mermaid Vision is wheelchair accessible and LGBTQ+ friendly. They also bill direct to most insurance plans, including NIHB for Indigenous services. The team at Mermaid Vision has completed cultural safety and humility training. Tanya is bilingual in French and English and loves it when she can connect and offer service to the Francophone community.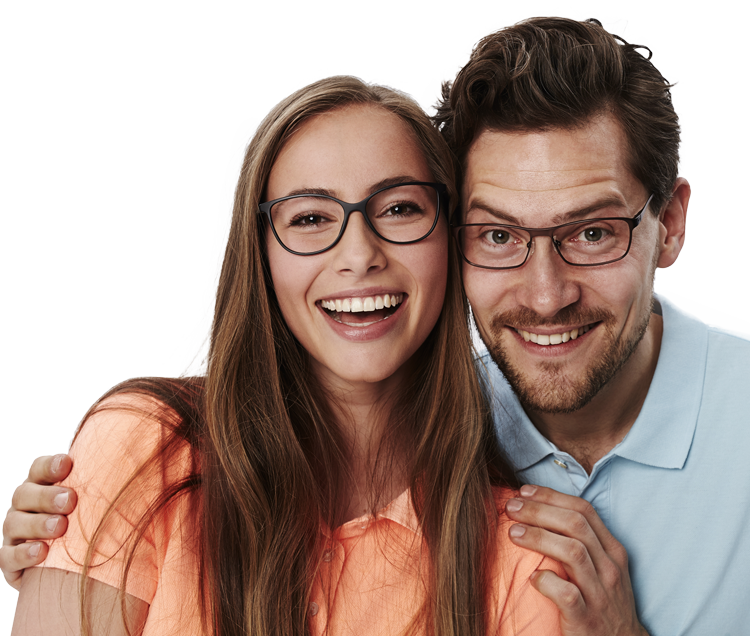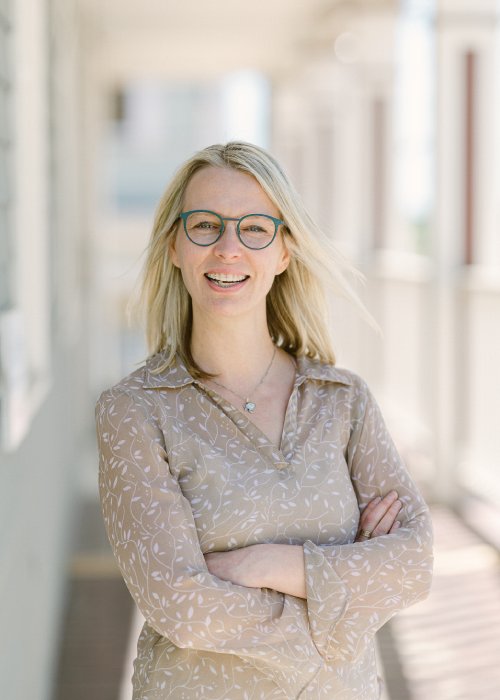 Tanya MacPhee, D.O., C.C.L.F.
Tanya MacPhee is a partner and coach of Mermaid Vision and has been a licensed optician for over 20 years and licensed contact lens fitter for over 16 years. Tanya serves as a director for the Nova Scotia College of Dispensing Opticians (NSCDO), National Alliance of Canadian Optician Regulators (NACOR) and the Opticians Council of Canada. (OCC) Tanya is the chief examiner for the optician licensing exams in Nova Scotia.
Tanya likes her various roles professional health regulation but she most enjoys helping people with their glasses or contact lenses. Tanya likes a challenge. High amounts of myopia, hyperopia or astigmatism, multifocal and toric contact lenses, prism, specialty lenses and tints, low vision, dry eye, etc. She likes to have a deep understanding of the technical data behind the different lens technologies so that when she recommends a certain product, she feels certain that it is what the patient needs.
Tanya loves coming into the office everyday because of the lively and fun environment that is evident as soon as you step inside. She attributes that feeling to the wonderful team at Mermaid Vision, her 'work family'. This group of women help Mermaid Vision to grow and thrive, even through various challenges along the way. Tanya is so thankful they are there to help through this exciting journey. Tanya is part owner of the company; a partnership with a reputable Canadian based investor.
This partnership gives Mermaid Vision access to some really unique products, and some great pricing on many popular brands. These savings are passed onto the shopper. If a client goes to Mermaid Vision for information and pricing on eyewear, Tanya believes that they will see for themselves. Contact lenses are also competitively priced and definitely worth checking out. If someone is looking for eyewear with better value but still want good quality and a great look, Tanya is confident they will find it at Mermaid Vision.
At the same time, if a client is looking for something bold, wild, different, outside of the box, edgy, funky, fun, fashionable, colorful, exclusive or eccentric and then it is paired with awesome lenses and exceptional service by a team of friendly, licensed opticians, come to Mermaid Vision, it's what they are most known for!
Tanya prides herself in being able to find something for everyone. That includes the price savvy shoppers, the trend setters, the fashionistas, locals and tourists, men, women, children, teens and everyone between.
Tanya has lived in Nova Scotia her whole life and in Lunenburg County for the past 20 years. She spends her free time practicing yoga, studying French and fly fishing. She's 'gone fishin' in Alaska, BC and Gaspé, but most often you'll find her close to home, catching trout and pickerel from her canoe, in the lakes at Kejimikujik National Park. Tanya lives near Bridgewater with her Chocolate Lab named Rosie, her companion and his 4 cats.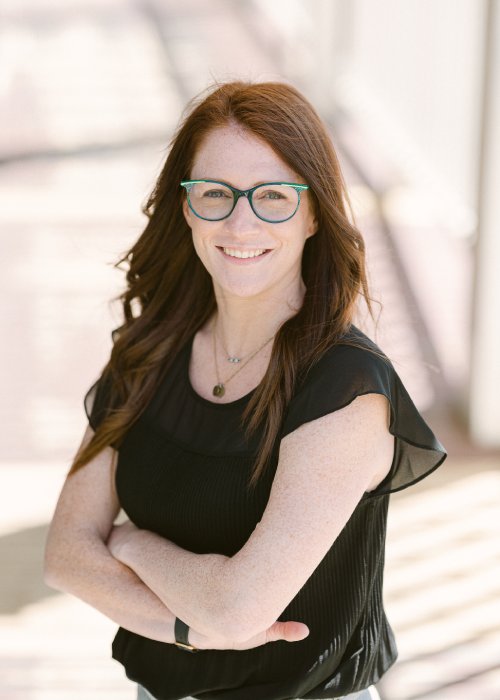 Allison Cahoon, D.O.
Allison Cahoon became a licensed optician in 2008 but has worked in the optical industry since 2006. Allison first began working at Mermaid Vision in 2008 when it was still located on King St. In 2016, she left to spend time with her 3 young children. In 2020, she returned to Mermaid Vision but to a whole new team of colleagues.
Allison is very committed to her team and can be depended on to help out when it is needed. Sometimes she visits the office on her days off to see the new arrivals because she can't wait to see them and if a patient is waiting, she will even jump in to help!
Allison is a licensed optician through the Nova Scotia College of Dispensing Opticians. She is a member of both the Optician's Association of Canada and the Nova Scotia Society of Dispensing Opticians. Allison is also an examiner for the optician licensing exams in Nova Scotia.
Allison is passionate about eyewear…..everything from the technical details to finding the perfect frame. She loves to ask questions and dig deep to really find out what a client is looking for and what they really need. She likes to help people take advantage of Mermaid Vision's generous multiple pair discounts to find the best choice for their second or consecutive pairs. She likes to educate people about the different types of lenses available and the benefits of each type of technology so they can make their own, informed decision. Does she talk about the physics and math related to patented Binocular Harmonization Technology to control peripheral aberrations? No! She could share this but she prefers to show clients the difference each piece of technology will make to the end result – the result to your vision, your experience, your product, your service.
Allison has lived on the South Shore of Nova Scotia for nearly 20 years. She lives with her husband, Colin, 3 children and a rambunctious 2 year old German Shepherd. In her spare time, you can find her glamping, cooking or enjoying time with family.
Jodi Oickle, D.O.
Jodi is a licensed optician with over 20 years experience in the optical industry, giving her a vast understanding of optics as it relates to a visual experience for people in real life. She thrives in helping people to 'see' their best and to 'see' that not all products are created equal. Take Maui Jim for example. Ask Jodi what she thinks about Maui's patented PolarizedPlus 2 technology and she will talk your ear off and actually be able to show you the difference this technology will actually make to your life, in the great outdoors.
In 2006, Jodi completed the Canadian Certified Optometric Assistant program by the Canadian Association of Optometrists. It is interesting to note that Jodi is the first person ever in Nova Scotia to have her prior skills and experience recognized with PLAR through the National Alliance of Canadian Optical Regulators, allowing her to earn partial credit towards her education in becoming a licensed optician. Jodi is licensed through the Nova Scotia College of Dispensing Opticians and a member of both the Optician's Association of Canada and the Nova Scotia Society of Dispensing Opticians.
Jodi joined her 'work family' at Mermaid Vision in Lunenburg in 2019 and she is a pleasure to be around everyday. Mermaid Vision is a small, yet busy and lively spot to be, which is exactly what she likes! Jodi has a keen sense of design, keeping the space looking neat and the boards constantly updated with new styles of frames. She goes to great lengths to find the best designs in any type of material, be it plastic, metal, rimless or a combination. Unique, bold, different, wild, exciting, fun.…. That's what she likes to find.
Jodi has the technical skills but her true passion is helping people look and see their best. She enjoys fitting frames that are loud, eccentric and funky but it doesn't stop there, as choosing the frame is only part of the experience. Eyesight is our most important sense so Jodi believes that eyewear can and should surpass basic function. While Mermaid Vision has price friendly choices, Jodi can also introduce you to the most advanced and customized products this industry has ever had the privilege to offer.
Jodi lives in Bridgewater. She enjoys the short and beautiful drive to Lunenburg along the Lahave River each day. Jodi lives with her husband Tim, their 160 lb Bull Mastiff named Ellie and a cat, nicknamed "The Nut". Recently becoming empty nesters, they plan to spend as much time as possible glamping, kayaking and paddleboarding at a place they call "the land"; their vacation property in South West Port Mouton.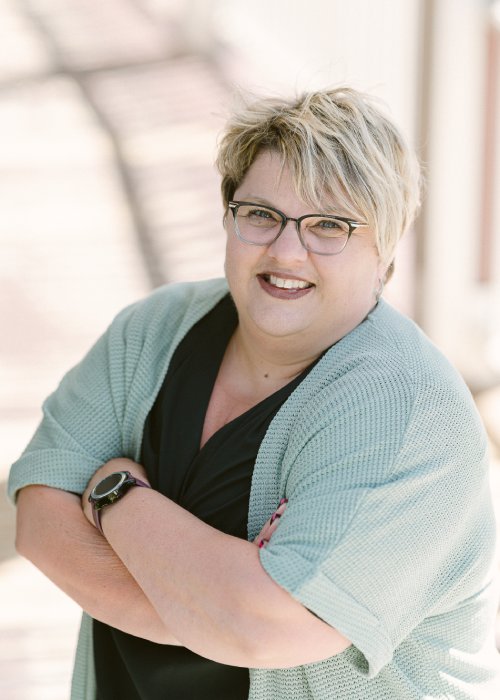 Nikki Selig
Nikki Selig joined Mermaid Vision in November of 2021 as a full-time receptionist. She has a friendly and warm personality that is evident as soon as you enter the building. Nikki looks after the schedule, welcomes people as they arrive and provides support to the optical team.
Nikki is currently enrolled in a certified ophthalmic assistant program with an expected completion date in 2023. Nikki teaches new contact lens wearers how to insert, remove and care for contact lenses. She is available and eager to give a second opinion on which frame looks best, as sometimes a fresh set of eyes is all that is needed.
Nikki's artistic side shines through in her eyeglass frame photos. She can capture the colour, finite details and quality that many of the frames at Mermaid Vision offer. It is not easy to get just the right focus or light but she is a natural!
Nikki's laughter is contagious and it is a true pleasure to have her on the team. Nikki lives near Bridgewater with her husband David and daughter Jaden. In her spare time, Nikki can be found spending time with friends and family while camping, kayaking or livin' it up on their party boat at Crooked Lake.
OPENING HOURS
Please call and book an appointment or drop in. Walk Ins Welcome. Don't forget to bring your prescription.
Monday : 9:00am – 5:00pm
Tuesday : 9:00am – 5:00pm
Wednesday : 9:00am – 7:00pm
Thursday : 9:00am – 5:00pm
Friday : 9:00am – 4:00pm
Saturday : CLOSED
Sunday : CLOSED